Dr. Steven R. Surrett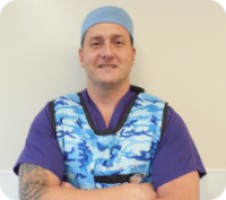 Iíve always taken great joy in being able to alleviate patientsí pain. The smile when they realize that options are available, the change in outlook when they have experienced relief often times for the first time in years is very satisfying. After completing an anesthesiology residency I pursued an interventional pain fellowship where the primary focus was alleviating chronic pain. Pain is a complex disorder often requiring a multimodal approach to treatment. The various condition I treat include chronic low back pain, multiple spinal disorders, radiating pain, peripheral neuropathies, and complex regional pain syndrome.
The advances in treatments over the last decade have vastly expanded the options available to patients who previously had no treatments available to them. I stay on the cutting edge of treatment and technology to provide the best possible outcomes for each and every patient. Letís work together to get you back to the life you deserve.
Board Certifications: Primary certification American Board of Anesthesiology, subspecialty certification Interventional Pain Management American Board of Anesthesiology
Undergraduate degree: Life sciences, Arizona State University; Barrett Honors college member and graduate
Medical School: University of Arizona
General surgery internship: University of Colorado, Denver
Anesthesiology residency: Upstate Medical University
Interventional Pain fellowship: Upstate Medical University
Advanced training: spinal cord and peripheral nerve stimulation, micro lumbar decompression, intrathecal pump implantation and management, regenerative medicine treatment modalities, advanced cancer pain management
Memberships: American Society of Anesthesiology, North American Neuromodulation Society, American Society of Interventional Pain Physicians, Oregon Society of Anesthesiology, Lane County Medical Society