GLENN L. KEIPER JR., M.D.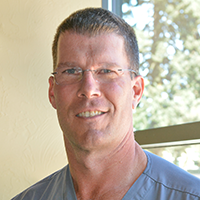 I like taking on complex problems, caring for people and contributing to their lives. That's what drew me to spine surgery. My daily encounters with patients have inspired me to develop new techniques and technology-and I'm one of only two surgeons in the region chosen to perform two revolutionary procedures.
These new techniques-motion segment preservation and artificial disc placement-have been designed to eliminate the need to fuse the patient's lumbar spine. That means simpler surgeries, quicker recovery-and far more freedom. Whatever the challenge, I'm here to face it with you. Together, we'll find the right treatment that leads to the best possible outcome.
Summary of Qualifications
Board-Certified: American Board of Neurological Surgery
Medical Degree: University of Cincinnati College of Medicine
Bachelor of Arts, Biology: The College of Wooster, Wooster, OH
General Surgery Residency: University of Cincinnati Department of Surgery
Neurosurgery Residency: University of Cincinnati Department of Surgery
Advanced Training: Charite artificial lumbar disc, Dynesys dynamic lumbar stabilization system, cerebrovascular surgery, skull base surgery, Stealth frameless stereotactic surgery, spinal instrumentation
Honors & Awards: The Salvador M. Adriano Memorial Award in Pathology (University of Cincinnati College of Medicine), The Miles Q. White Award in Biology (The College of Wooster), Academic Achievement Award (The College of Wooster), The Horace N. Mateer Prize in Biology, Alpha Omega Alpha Society (University of Cincinnati)
Extensive Publications, Research & Presentations
Member: American Association of Neurological Surgeons, Congress of Neurological Surgeons, National Association of Spine Surgeons, Oregon Medical Association, Lane County Medical Society