PATIENT TESTIMONIALS
WHAT PATIENTS HAVE TO SAY ABOUT DR. KEIPER. . .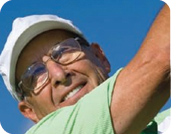 "Thank you for your medical help, kindness, and understanding from one of the hundreds of people you see every week. When I first came to see you, I was so scared. I didn't think I would be a whole person again when I was told I needed not just one, but three surgeries before the year was out. You all helped me to laugh and cope with the situation at hand. When I needed to cry you helped me in your very special way. I wish for all of you the blessing of love that you all gave to me."
"Today . . . marks the one year anniversary of the day you did microvascular decompression surgery on me. I thought you'd like to know that I am still pain free. Thank you for using your God-given talent and knowledge to help me!"
"When other physicians were extremely pessimistic about the outcome, you were the one person who shared a sense of optimism and encouraged us through an extremely difficult time."
WHAT PATIENT HAVE TO SAY ABOUT RALPH PETERSON. . .
"Ralph is kind, considerate, and patiently answered all my questions."
"Ralph is the salt of the earth. He reassured me when I worried that my pain was not completely gone the day after surgery. And what he said was absolutely true."